The SHC Group History
The SHC Group remains privately owned, since 1947.
1947
Sin Heng Chan (SHC) is founded as a sole proprietorship with humble beginnings as a trader in sundry goods and oil milling.
Early 1950s
An early pioneer in the rice milling industry, SHC's famed "Golden Jasmine" fragrant rice was well known to merchants, food vendors and restaurants throughout Singapore. Beginnings of the Rice and Sugar division.
Mid 1950s
SHC supplies rice bran (a by-product of rice milling) to a pioneer in the feed milling industry "Gold Coin" feeds.  Appointed distributor of "Gold Coin" feeds in Malaysia and Singapore.

SHC's own feed milling operations started in Singapore to support the farming sector and growing demand for meat and eggs. Commodity trading (in rice bran, copra meal, corn and soya bean meal) commenced simultaneously.
1962
Sin Heng Chan (Malaya) Sdn Bhd obtained pioneer tax status and installed a feed milling plant in Malacca. Branches in Kuala Lumpur, Ipoh and Butterworth soon followed, distributing SHC's renowned "RED CIRCLE" feed to farmers across the Malayan Peninsula.

1965
SHC acquired its own feed mill on a 5-acre site at Hillview Avenue, Singapore and employed the first analogue computer for scientifically based, least cost animal feed formulation. SHC also operated its own quality assurance laboratory and research farm.

Feed milling activities expanded to Vietnam a few years later.
1973
Sin Heng Chan (Malaya) Bhd was listed on the Joint Stock Exchange of Singapore and Malaysia. This marked the unveiling of a regional first—a fully automated Swiss-built Buhler 20 Ton/hour feed mill pelleting plant.
1978
Additional plants were soon established in Butterworth, Kuantan and Kuala Lumpur in the years following, making SHC (Malaya) the second largest animal feed producer in Malaysia. Branch offices in Johore Bahru and Kuching, East Malaysia opened.

1980
An existing feedmill in Indonesia, PT Welgro was acquired and manufacturing capacity expanded to meet the growing demand for layer and broiler feeds.

1981
Sin Heng Chan (Singapore) Pte Ltd's portside feedmill cum bulk grain handling facility at Jurong port was inaugurated and dominated the commodities trade in corn and soyabean meal due to its geographical location and bulk economies of scale.
1982
SHC entered the Malaysian property market with the establishment of Eng Development Sdn Bhd, providing quality built middle income housing across Malacca, Johore and Selangor.

1983
Rapid expansion of SHC (Malaya) into animal farming, poultry breeding, poultry processing, and integrated broiler farming operations.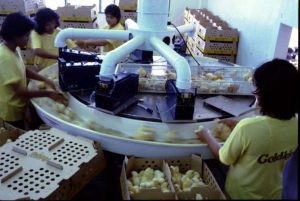 1993
SHC (Malaya) was divested at the peak of the Malaysian stock market at a value of more than $240 million Malaysian Ringgit.
1995
Incorporation of SHC (Philippines) Inc, subsequently renamed Welgro Philippines Inc – the Groups last remaining feed mill which continues to toll manufacture for other large agricultural producers.
1997
To fuel Singapore's rapid urbanization, SHC (Singapore) Pte Ltd joint ventured with Sembawang Group's concrete arm, RDC Pte Ltd and converted its Jurong Port feed mill and bulk grain handling facility into a cement silo terminal with its own proprietary Swedish made, state of the art SIWERTEL 800ton/hour ship unloader for bulk handling of ocean-going cement carriers.
SHC moved to its own town office at 80 Tras Street, Singapore

SHC also began to focus on the higher end segment of the property market, to cater to the flourishing economy and a new wave of luxury seeking consumers. To actualize SHC's aesthetic vision for sublime design with form and function, it developed many award-winning cluster and landed housing and apartment projects such as Victoria Park bungalows, Gilstead Brooks, NOMU and Watten Residences with trend setting architects WOHA and IPLI. Many other projects were also completed successfully during the period 1997 to 2014 in Singapore, Johore Iskandar and Jakarta.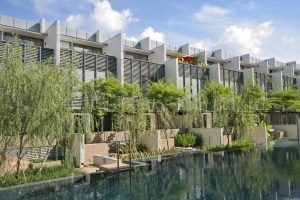 1999
A joint venture cement export terminal was established with Jidong Cement Corporation in Jintang port Hebei, China.
2003
SHC acquires a large multi-national concrete ready mix operator in Singapore and establishes its own ready-mix operations with multi-plant sites and a fleet of concrete mixer trucks.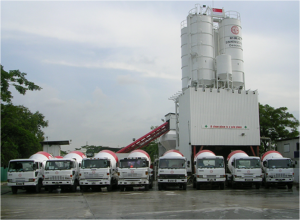 2006
SHC's ready-mix concrete operations expanded to Chongqing, China resulting in SHC (Chongqing) Co Ltd, in a bid towards geographical diversification.
2007
SHC's ready-mix concrete operations expanded to the United Arab Emirates, in the form of Welmix Concrete (Dubai) LLC.
2008
SHC's ready-mix concrete operations expanded to Mianyiang, China. SHC (Mianyang) Co Ltd was established, immediately after the great Bei Chuan earthquake.

NewTec Pte Ltd, a dry mortar business, was also added as an ancillary manufacturing operation in Singapore.

2009
SHC merged its concrete operations in Singapore with those of international players Lafarge Cement and Asia Cement Corporation. This resulted in the formation of Alliance Concrete Pte Ltd, which was equally owned by all three parties, and a major supplier of concrete to the private sector, government contracts and other iconic projects in the burgeoning urban renewal landscape.

2010s
SHC undertook an internal strategic review of the long-term prospects of all its business units. To pave the way forward, with a pivot towards property development and hospitality management, the following business units were divested all under favourable conditions:
– Concrete interest in SHC (Chongqing) in 2012
– Feed milling interest in PT Welgro in 2014 (after 34 years of operation)
– Rice & Sugar division and its accompanying warehouses in 2015
– Cement interest in SHC (Singapore) to YTL Cement in 2015
– Alliance Concrete in 2016
– NewTec Dry mortar business in 2017
– Welmix Concrete (Dubai) in 2019
2014
Completion of Nozomi apartments, for long term leases in the ski resort of Niseko, Japan.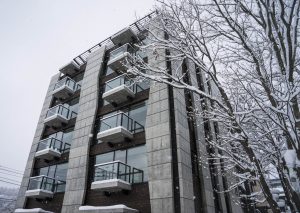 2016
Nest at the Trees (now known as Miru Niseko), another resort development in Niseko, Japan, consisting of lodges, apartments and hotel suites was completed.

2017
Nest at Amami (now known as Miru Amami), an island resort development featuring private luxury beach-style villas in Amami Oshima, Japan, was completed

2018
Nest at Kyoto (now known as Miru Kyoto) a boutique hotel development was completed.

SHC completes Nest at the Hill (NATH) in Melbourne, Australia; a 253-apartment development which sold out almost immediately with a gross development value in excess of A$180 million.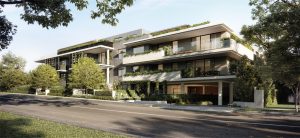 2019
SHC sells out The Springfield, a luxury apartment developed together with renowned architectural firm K2LD and the Chapter Group in Melbourne's plushest suburb, Toorak. Its penthouse units fetched an all-time highest selling price in the suburb with median prices per unit also reaching a record high.

2020
All hotels under SHC undergo a major rebrand to form its new hospitality group – Miru Collection. Miru Collection is a group of lifestyle hotels for the modern and conscious traveler.
Japan
SHC is working with Toyo Ito, a Japanese Pritzker Award Architect to develop a luxury apartment in the upscale Aoyama district, minutes away from Tokyo's prime shopping belt, Omotesando.

It has also recently completed retrofitting and the lease of SS Building in Kyoto. Plans for expansion of Miru Kyoto Gion are also underway.

Australia
Recent projects include Nest at Bell, a mid-end apartment project in Preston, and three other luxury apartment projects, namely Heartwood in Malvern, Monument in Armadale and The Lansell in Toorak. The Group has also purchased a large commercial site at Ringwood, a suburb 20 minutes away from Melbourne, suitable for future redevelopment.
Bali, Indonesia
Completion of an upscale ethnic villa style home in the hills of Ubud, Bali is expected by 2022. Earthworks has also begun for a villa style hotel in Jumpai Bali.